Wpływ niskich temperatur na akumulator
Wpływ niskich temperatur na akumulator
Kolejne dni przynoszą Nam coraz mroźniejszą pogodę. Jak znoszą to akumulatory poruszymy w tym artykule.
Czym jest akumulator i do czego służy?
W samochodzie osobowym znajdują się przeważnie dwa źródła prądu: akumulator
i alternator (bądź prądnica w starszych modelach). W dużym uproszczeniu oba działają
na przemian. Akumulator stanowi odwracalne elektrochemiczne źródło prądu. Innymi słowy
jest to urządzenie służące do gromadzenia i pobierania z niego energii elektrycznej,
przy czym z każdą z faz jego pracy wiążą się reakcje chemiczne zachodzące we wnętrzu.
Niska temperatura, a akumulatora
Zimowa aura jest niekorzystna dla każdego rodzaju akumulatora. Pogląd
ten nie jest do końca prawdziwy. Ujemne temperatury zmniejszają sprawność, a tym samym obniżają pojemność akumulatorów, ale tylko na czas niskich temperatur. Niska temperatura
jest niebezpieczna dla akumulatora w przypadku gdy akumulator jest rozładowany. Wówczas spada gęstość elektrolitu i jest on narażony na zamarznięcie, co spowoduje trwałe uszkodzenie akumulatora. Niemniej jednak, niskie temperatury (do pewnego stopnia) nie wpływają na inne parametry i cechy akumulatorów. Co ciekawe, to właśnie wysoka temperatura niszczy akumulator obniżając bezpowrotnie jego parametry i powodując jego szybsze rozładowywanie.
W przypadku nowej baterii samochodowej pełna, dwudziestogodzinna pojemność akumulatora występuje przy plus 25 st. C ale jeżeli temperatura otoczenia spadnie do 0 st. C,
jego efektywność stanowić będzie jedynie 80 proc. mocy wyjściowej. W momencie, gdy słupek rtęci spadnie do minus 10 st. C, sprawność akumulatora wyniesie nieco powyżej 70 proc.
W przypadku gdy akumulator jest już trochę wyładowany, to jego pojemność jest jeszcze mniejsza.
Zjawisko wzrostu napięcia wynika z tego, że gęstość elektrolitu w akumulatorze (a zatem jego napięcie elektryczne) zmienia się wraz z temperaturą. Dla jednoznacznego określenia stanu akumulatora przyjęto, że wartości napięcia podaje się przy tzw. temperaturze odniesienia,
tj. 25°C. Oznacza to, że jeżeli pomiaru napięcia dokonano np. przy 0°C (i taką temperaturę
ma też akumulator), to aby określić rzeczywisty stopień naładowania akumulatora, należy zmierzoną wartość napięcia przeliczyć do temperatury odniesienia.
Akumulator składa się kwasu siarkowego i wody, a prawidłowo naładowany akumulator wykazuje się gęstością elektrolitu 1,28 g/cm3. W takich warunkach temperatura zamarzania wynosi
aż -60oC. Można z całą pewnością stwierdzić, że w Polsce takie temperatury nam nie grożą. Jednak przy spadku poziomu naładowania akumulatora spowodowanego jego niedoładowaniem bardzo szybko spada gęstość elektrolitu, co przyczynia się do podwyższenia się jego temperatury zamarzania. I tak, już przy gęstości 1,15 g/cm3 temperatura zamarzania wynosi
-15oC, a przy niewiele niższej gęstości 1,10 g/cm3 już -9. Takie temperatury regularnie występują w naszej strefie klimatycznej.
Jak zadbać o akumulator przy niskich temperaturach?
Jak wiadomo, akumulatory samochodowe nie lubią skrajnych temperatur – te bardzo wysokie przyspieszają proces samorozładowania, a te niskie (od 0°C w dół) zmniejszają zdolność akumulatora do przyjęcia prądu, co prowadzi do wydłużenia czasu ładowania, a czasem nawet uniemożliwia akumulatorowi pełne naładowanie.
Każdy użytkownik samochodu powinien pamiętać, że akumulator wymaga pewnej troski. Przynajmniej raz na kwartał każdy akumulator powinien być sprawdzony. Szczególnie
jednak przed nastaniem zimowych chłodów, samochodowy akumulator powinien zostać dokładnie przejrzany i doładowany. Prawidłowe podładowanie akumulatora za pomocą prostownika powinno odbywać się w czasie nie krótszym niż 10 godzin. Należy jednak pamiętać, że wartość natężenia prądu doładowującego nie może przekraczać jednej dziesiątej pojemności baterii mierzonej
w amperogodzinach. Jeśli wymagane jest dalsze ładowanie należy zachować przerwy między każdą sejsą ładowania, aby akumulator odstał, a procesy w nim mialy czas na uspokojnie.
Jeśli mamy dostęp do cel, warto zajrzeć do środka. Poziom elektrolitu sprawnego akumulatora samochodowego powinien znajdować się w przedziale od 10 do 15 mm ponad krawędzie płyt, zaś jego gęstość powinna mieścić się w granicach1,28 g/cm3 po przeliczeniu
do temp. 25 st. C.
Niektórzy użytkownicy pojazdów stosują przemyślne "ubrania" dla akumulatorów, by jak najdłużej utrzymać temperaturę elektrolitu, zbliżoną do optymalnej (wspomniane wcześniej
25 st. C). Ze względów bezpieczeństwa muszą oni jednak pamiętać, by uszyte dla baterii "ubranie"
nie zasłaniało ujścia z kanału wentylacyjnego akumulatora. Decydujący się na takie rozwiązanie muszą jednak wiedzieć, że jeżeli pojazd długo stoi na mrozie to szanse utrzymania wyższej temperatury w samochodowym akumulatorze są znikome. Dużo ważniejsze dla pełnej sprawności akumulatora jest monitorowanie stanu naładowania i jego właściwie użytkowanie. Jeśli akumulator nie ma zbędnych przeciążeń to nie powinno być problemu z uruchomieniem pojazdu bez docieplania. W sytuacji ekstremalnych mrozów skuteczne może być jednak wymontowanie akumulatora na noc i przechowywanie go w temperaturze pokojowej.
Sezonowanie – akumualtory do łodzi, kamperów i motocyklów
Niskie temperatury, które mogą pojawić się w okresie zimowym, mogą przyczynić
się do zamarznięcia elektrolitu, czyli uszkodzenia akumulatora. Chcąc odpowiednio sezonować akumulator, należy podjąć wszelkie kroki, by elektrolit nie zamarzł. Wobec tego po zakończeniu sezonu należy wyjąć akumulator z pojazdu i umieścić go w miejscu, w którym panują temperatury pokojowe.
Jeśli akumulator zostanie w kamperze, łodzi czy motocyklu to będzie on narażony
na rozładowanie cały czas podtrzymując pewne systemy: alarm, pamięć sterowników
lub inne podsystemy elektryczne pojazdu. Pewnym wyjątkiem są przyczepy i kampery wyposażone w systemy solarne, które umożliwiają podtrzymanie ładowania akumulatora.
Wyjęcie akumulatora z pojazdu na okres zimowy stanowi dopiero pierwszy krok
ku prawidłowemu sezonowaniu jednostki. By zachować optymalne parametry akumulatora, należy bezwzględnie zadbać o czystość akumulatora. Zgromadzony na biegunach kurz,
olej oraz wilgoćpo pewnym czasie wytworzą warstwę przewodzącą, która zamknie obwód i zacznie przewodzić minimalne prądy z bieguna dodatniego do ujemnego, co naturalnie będzie rozładowywać jednostkę. Jeśli zbagatelizujemy czystość akumulatora, po pewnym czasie,
gdy warstwa przewodząca będzie znaczna, może doprowadzić do trwałego uszkodzenia akumulatora. Zatem, po wyjęciu bateriiz pojazdu, należy wyczyścić i wytrzeć do sucha obudowę akumulatora. Warto również specjalnymi szczotkami (lub poprsotu delikatnie zwykłym "druciakiem") przeczyścić końcówki biegunów,a następnie posmarować je wazeliną techniczną
czy też smarem grafitowym lub miedzianym aby zapobiec ich zaśniedzieniu.
Kolejnym oraz najważniejszym krokiem stanowi regularna weryfikacja stopnia naładowania akumulatora. Warto to robić przynajmniej raz w miesiącu. Możemy zrobić to na dwa sposoby.
pierwszym z nich jest dokonywanie pomiarów jednostki w otwartym obwodzie (przy braku obciążenia). Wówczas napięcie nie powinno być niższe niż 12,6 V. Oczywiście, najłatwiej sprawdzić je za pomocą woltomierza bądź bardziej zaawansowanego testera.
Minimalne napięcie ustabilizowanego akumulatora po odłączeniu od dowolnego obwodu, czyli bez podłączonego obciążenia zewnętrznego i napięcia powierzchniowego, powinno wynosić 12,4 V. Każda wartość poniżej tego zakresu zwiększa ryzyko, że akumulator nie będzie mieć wystarczającej energii, aby uruchomić silnik. Dlatego napięcie akumulatora warto regularnie kontrolować, a akumulator doładowywać, gdy jest ono niższe niż 12,4 V – wcześniej zadbawszy
o to, aby elektrolit (jeśli występuje w postaci płynnej) był dobrze wymieszany (poprzez kilkukrotne potrząśnięcie akumulatorem w bezpieczny sposób). Każdy akumulator, którego napięcie spadnie poniżej tej wartości, z czasem ulega zasiarczeniu – a im dłuższy jest ten czas, tym bardziej nieodwracalny staje się proces zasiarczenia.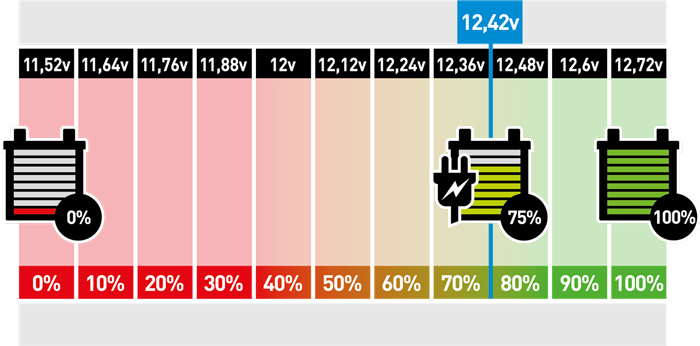 Aby jak najbardziej zminimalizować wpływ tego, jak akumulator reaguje na niskie temperatury i zawsze móc cieszyć się sprawnym pojazdem, warto monitorować jego napięcie.
Jeśli tylko zauważymy, że spada ono poniżej rekomendowanych wartości, niezwłocznie go doładujmy. Nie tylko przedłużymy jego żywotność, ale również oszczędzimy sobie wielu problemów związanych z unieruchomieniem auta.
W każdym Naszym oddziale bezpłanie sprawdzimy kondycję akumulator oraz poprawność jego ładowania. Również zawsze chętnie służymy poradą.
Gdy Twój akumulator już jest do wymiany dobierzemy najlepszy akumualtor z Naszego, bogatego asortymentu. Na miejscu wymienimy za darmo na nowy.
Do zobaczenia i szerokości na drodze!!